I'm one of those writers who can't abide clutter. Before I start work, I have to clean up everything around me. Even an untied shoelace distracts me.
There are plenty of exceptions to this of course. Sometimes I love nothing more than grabbing a cup of coffee and writing while I watch the world go by — the busier the cafe the better. I've even been known to take my laptop out to the woods and work sitting on an old felled tree. You never know when or where inspiration might strike. Changing your surroundings really can change your frame of mind.
But one thing I find very hard to deal with is a cluttered desktop. No, I'm not talking about the usual six or seven cups of writer-fuel (that's coffee, folks, not whisky) that pile up around my desk over any given day. I mean my Windows desktop.
I'm actually a Mac user — I have been for years. But when they brought out dual-booting, I started using a clean install of Windows with Word on it and nothing else because it reduced clutter. Moreover it kept the temptation of my music and videos at bay. But Word itself is still pretty cluttered.
In the past when I've felt the need for simplicity I've booted up my old Sharp FW word-processor — no internet, no graphics, no music, no colour. Just a monochrome screen and a keyboard. And it's worked.
But it's hardly convenient. The thing's an unmoveable brick. This weekend I discovered Q10. And suddenly everything changed.
Q10 is a basic word processing interface for Windows that mimics an old-style word processor, only with a few modern twists. It's fully customisable — you can change the font size, the colour of the background, the colour of the text and so on…
But the point is, it's totally minimalist. It is a fullscreen interface for you and your words. No windows, no start bar, no pesky Microsoft Messenger bugging you every ten seconds. Back to basics.
I'll not ramble on when a screenshot tells you everything you need to know: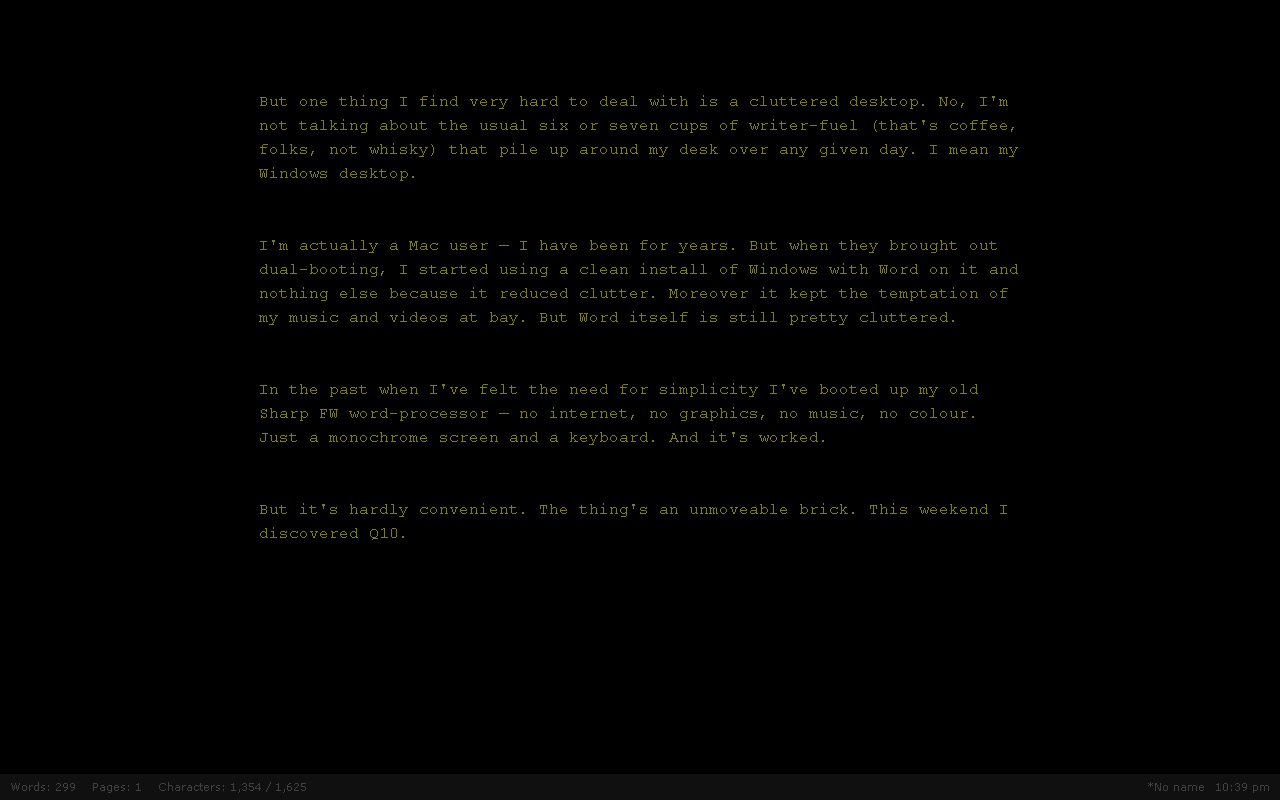 As you can see I wrote this blog post using Q10. But since it's the weekend I've mostly been using it to batter out a bit of fiction and I absolutely love it. Everything flows brilliantly. I feel more in touch with my words than I have in years.
As a writer, it's absolutely vital that nothing gets in the way of my words. No mess, no distractions. Q10 has doubled my productivity overnight.
If you're a writer — casual or professional — and you're suffering from desktop overload, you should check this program out. Mac users needn't fret, either. There's a similar program called Write Room here.
A hearty thanks to Q10. It might sound like hyperbole, but this incredibly simple program really has changed my life. But don't take my word for it. Try it out for yourself.