I've been in and out of London a lot lately, sometimes for work, sometimes seeing friends. And it strikes me how hard it is to be creative there, with so many distractions. I've been hard at work lately, sometimes at the weekend, sometimes even at night. The dangers of being a freelancer are that you set your own hours.
It's hard setting time aside to relax, especially when you're an "always on" kind of guy like me. I used to have a pool table (technically, a friend's pool table) and that helped me to focus a lot. A fifteen minute work-out on the table gave my mind just enough breathing space to recover and get back in the game.
I wouldn't say I'm a loner. In fact, I love being around people. I love watching them, love trying to figure them out — I wouldn't be very good at my job if I couldn't get into people's heads. But when I've got two, sometimes even three clients, all expecting work to be delivered within strict deadlines… it gets hard.
I live about an hour outside of London, but when things get stressful, there's a place I can drive to to clear my head. Sometimes I take a notebook. Usually I just go up there and sit for a while and ideas come to me. I've held off mentioning it here because I've often thought some clients might take exception to the fact they're paying me to sit in a clearing for hours at a time and clear my head.
But that's where the best ideas come from: a clear mind, uncluttered, unfettered by daily designs.
This is where I go when I need to come up with new ideas: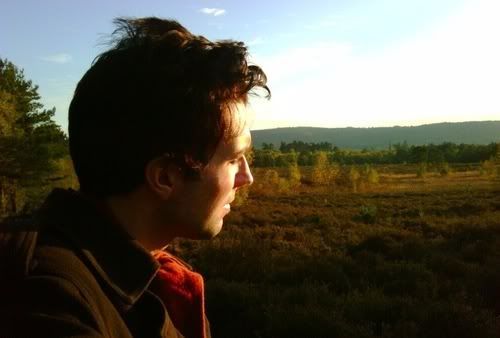 It's really quite beautiful. Breathtaking, actually — this photo clumsily snapped on my 2MP BlackBerry hardly does it justice.
Us creative types are odd. When I was first starting out, a friend told me all I needed to succeed in advertising was a good haircut once a month and a good idea once every three or four years. I think that's changing as social media makes the world turn that little bit faster and faster… but nonetheless — the busier the world gets, the more important this seems:
You've got to find time to stop and see things from afar.
That's when the bigger picture becomes clear.
When you're stressed, stop working. When you've stopped working, stop stressing.
Then get back on with the job.
I'm thinking about moving closer to London to be near to my work, but I'm not sure I want to leave this place behind.
I guess with all things it's just about finding a coping strategy. Maybe I'll have to buy myself a new pool table if I move back to the city.